2016
---
September - October: Instagram Updates & Search By Countries
A lot of improvements have been made on the system. We have updated our Instagram posting system. It now allows you to have line breaks in your Instagram posts, although the Instagram official mobile app still doesn't allow you to start new paragraphs by default.
Fan Page Robot now has a better localization support when you generate News & Articles content. You can specify a country or region by adding a particular location:xx to your keywords. Learn More about how to use this feature here.
---
June 15: Boost Likes
Fan Page Robot enables you to easily buy real Facebook likes, followers, and similarly, the highest quality YouTube, Instagram, Twitter, Pinterest, or Google+ followers, views and even comments at the lowest possible price.
Moreover, our system offers every service through an extremely easy process (that you cannot find anywhere else).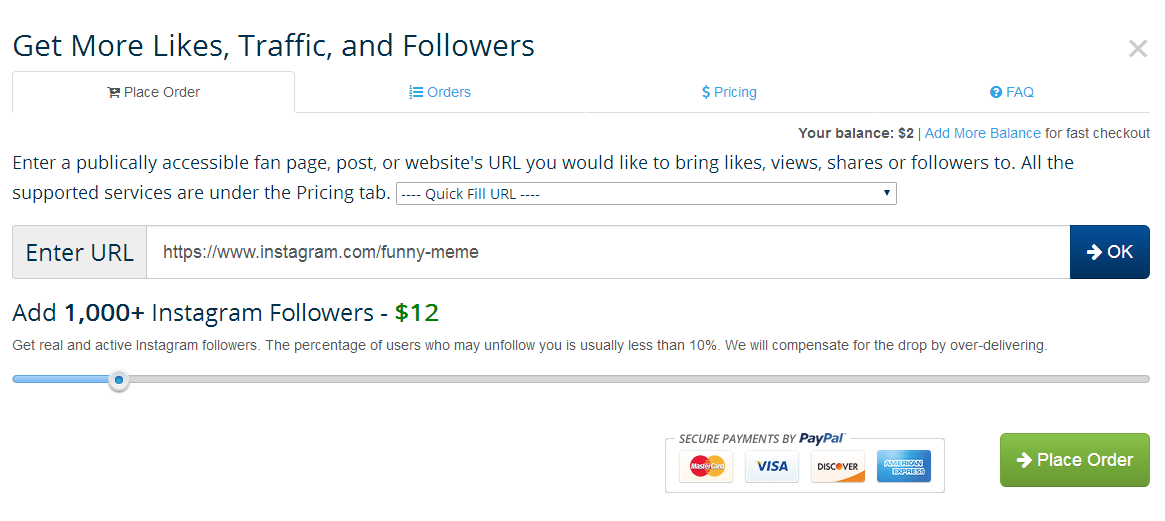 ---
April 29: Auto Post to Instagram
Instagram automation has become an indispensable part of social media marketing. Your marketing strategy must incorporate this automation to perk up your business with potentials sales.
You can schedule your Instagram posts and auto post to your Instagram accounts without your smart phone or the mobile app at Fan Page Robot.
---
April 20: Auto Post to Facebook Groups and More Pages
Happy 420! We're excited to announce that Fan Page Robot has a couple of new features.
It can now support Auto post to Facebook Groups that you are an admin of. Simply click on the 'Add Facebook Groups' button at the bottom of your fan page list. It will direct you to a Facebook authorization screen. Click on "Ok" to allow Fan Page Robot to manage your groups.
Moreover, you can cross-post to dashboards of different fan pages or groups. Simply click on the "Post to More Fan Pages" appearing on the message box and select the dashboards and networks.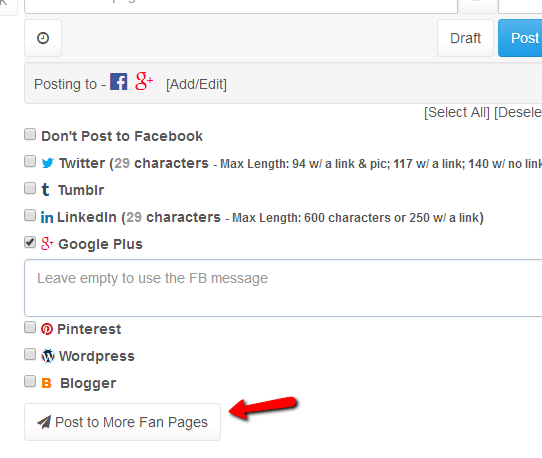 ---
March 31: Teamwork & Subaccount
The teamwork feature is now available for all users. It will allow you to
add another Facebook account to be managed by Fan Page Robot
have a new Fan Page Robot account for your client and manage his/her social media accounts without asking for any login credentials
have a new Fan Page Robot account for your coworker or assistant and ask him/her to submit posts for review before posting
All the features of Fan Page Robot are available with no additional fees, except when you create a new account. A subaccount has the same functions as a regular account and can be converted into a regular account any time, so they have the same pricing structure.
Learn more about teamwork/subaccount
---
March 1: Enhanced Facebook Pages Search
Enter your keywords in the Content Generator, and click on the "Influencers" button. In addition to a list of the top Twitter influencers, Fan Page Robot now shows you the most popular fanpages on Facebook based on your keywords. The results are sorted by page likes by default.
This comes really handy when you want to research your competitors, find good sources of viral content, discover local businesses (phone numbers listed), find the top influencers in your niche, etc.
Our future development plans for this tool include:
1. load a preview of the fanpage content instantly;
2. allow you to export the data to an Excel file;
3. add more useful metrics for your competitor/influencer research.
---
February 22: More Beautiful Campaign Templates & Multiple Other Features
More beautiful campaign templates have been added to our campaign system. Now we have about 100 high-converting templates for you to build your social media or website compaigns within a few minutes!


A PhotoShop-like pixel ruler is added to the campaign designer for your precise design.

The likes/shares filter was only available for the global social media content search before. Now it is also available for Facebook and Twitter pages. You can also see the available likes or favorites of a Facebook page and Twitter account when you load the content.

When you search feed/pages (enter your keywords and then click on "Search/Load Page"), Facebook pages are now included in the search results and showed on the top. It will help you find the best Facebook pages on your keywords.

"Shorten the content text to no more than___" allows you to enter 0. When it is 0, the original message will be removed.

When your tweet is too long, the Robot will automatically shorten the text for you without removing your links and image.

Tweets are further optimized.

When you make a Facebook link post and also post it to other blog/social media platforms, the Robot will automatically upload a large image from the link if you don't provide an image or your image is smaller than 150px*150px.
---
February 2: Combine Multiple Posts Into A Blog Article
A new option is added to the Content Mixer. Now it can automatically combine multiple social media posts, images, videos, news and more into one article when it auto-discovers content and autoposts to Blogger, Tumblr, or your Wordpress site for you. Learn More..
---
January 1: New Settings in Content Mixer
Happy New Year everyone! Based on our user feedback, we added a few new options to Autopost Settings, so you can easily curate better content for your social media pages:
Schedule no more than __ posts/day
This setting is useful when you would like to ensure other content sources get posted before a fanpage reaches the "Maximum Posts Per Day for AutoSchedule" limit.

Content Type Filter: do NOT show/post content that...
This setting is available for the website feed content only, as other types of content sources don't need this filter.

Shorten the content text to no more than ___ words
by Brantley Gilbert (Social Media Expert) on December 26, 2016
© 2023, fanpagerobot.com. All rights reserved.
---