Everyone knows that social media marketing is one of the most powerful and effective ways to create brand awareness, engagement and loyalty.
But, you may say
I don't have time for social media marketing
My business isn't interesting enough for social content
It won't generate sales
It's expensive
It's a waste of money
If this sounds like you - then you need to get AI-Powered Fan Page Robot!
More Than Just A Social Media Autoposter Software
Fan Page Robot isn't just a social media autoposter. It's a simple yet powerful software that has been integrated with the latest Artificial Intelligence (AI) technology. It can not only help you to get real, targeted, social media followers in any niche - and it runs itself - but also automatically increase your revenue and create a huge flood of leads for your business.
Fan Page Robot will save you a lot of time and money that you'd otherwise spend on social media marketing.
No need to manually write original content or create posts
No more running ads on social media to get likes and followers
No need to manually post links on your social media pages
No more generating leads through manual labor.
And there's no life-draining technical skills required to make it work.
Now, let me show you how you can turn your social media pages into a traffic-attracting and profit-making machine in just three simple steps.
Step 1: Generate Viral Content using AI
With the content curation and creation features, you can enjoy multi-dimensional benefits of increased exposure and user engagement. Simply click the "Generate Content" tab and enter your keywords, or a fan page or website URL to explore a variety of content.
If you like the results, save the search to Content Mixer for auto-posting and advanced content curation.
You can also use our AI tools on the message box to create original content, rewrite your post, and generate hashtags. All you need to do is to click the AI button:

Step 2: Automate Your Content Stream
Go to Content Mixer, choose the networks you want the Robot to autopost for you using the setting "Which networks to post when Autopost is enabled?" [view a demo video]. You can also customize how and what to post from each content source.
And then enable Autopost. New content will be generated from your keywords and automatically posted to your social media pages.
This 5-minute demo video will walk you through the basic features you may find useful:
Go to Popup Campaigns - and create a campaign.
Let me explain more about this unique feature that you won't see anywhere else.
Here's the idea: with Popup Campaigns, you can convert any links and web pages, and either a YouTube video or a Yahoo news page, into your advertising pages or leadpages.
When you share an article link created by our Campaign Builder, your followers can see the post as usual. For example, the following screenshot is what your followers see when you share entertainment news about a female singer. There's nothing different than when you post without our Campaign Builder.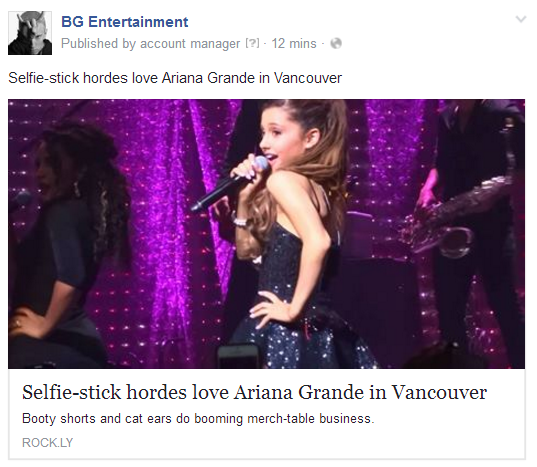 But after your followers click on your link - the magic happens. Instead of reading the article immediately, they will see your revenue or lead generating campaign first, depending on what campaign template you were using while creating the link.
It's really easy to create a high-converting, profit-making campaign. We have many different types of templates ready for you to implement different revenue generation strategies right now. For example, If you want to get a lot of leads and boost your subscribers, you can use this template to ask your visitors to subscribe before viewing the page.
If you want to boost your social media followers, you can make your visitors like or share before they can browse the content.
If you have a product or an online store, you can design an ad to showcase your product and link it to your store.
A simple yet very powerful visual designer is available for you to customize your designs and make them look the way you want within a few minutes. You can drag and drop to reposition and resize the elements, insert HTML code to your design, and customize the animation effects.
By clicking on the Autoresponder option, you can easily connect your campaign with your external email lists. Our system is integrated with 10 major email marketing programs like AWeber, MailChimp, GetResponse, iContact and a lot more.

Once you've set up a campaign, you can either manually generate your campaign pages with just one click, or let Fan Page Robot automatically convert every link you post on your social media pages to your campaign page.
A detailed traffic report for each campaign page will be provided for you. So you'll not only know how many times your ads were viewed - but also when and where they were viewed.
We are constantly adding more new and exciting features to meet your needs. Our support team is here for you 24/7.
Connect with Facebook, Instagram, Google My Business, etc. Use our best social media tools with the limitless power of AI and start to grow and monetize your social media empire!
A Powerful Facebook/Social Media Marketing Software that Everyone Can Afford!
Fan Page Robot is the only results-driven social media dashboard that will help you get more followers and revenue in less time.
It costs even less than a cheese burger, but it will save you a lot of time and boost your business!
No download or installation. Instant access. Incredibly easy to use. 100% money back guarantee!
---
Join us now!