It's very easy to reconnect your Facebook account with Fan Page Robot.
Step 1: Click on the "Deauthorize" link to deauthorize Fan Page Robot with Facebook

Step 3: Move your mouse to the left side of your screen, click on the "Connect to Facebook" button.
Step 4: [IMPORTANT] Always click on "Okay" when you authorize Facebook with Fan Page Robot. We care about your privacy too, and only request the minimum permissions needed to make the app work.
When Facebook asks "What Pages do you want to use with social media poster?", you must select the pages that you would like to connect. You can simply click "Select All" as well: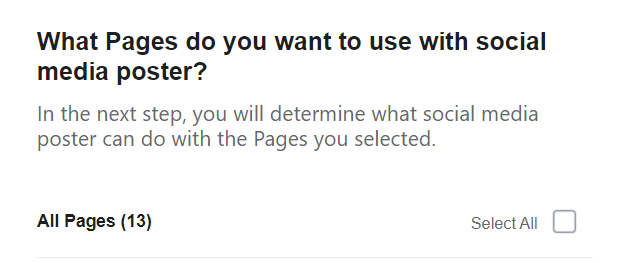 [Optional] Step 5: If you are on a Pro Plan and have more than 4 fan pages, it should pop up a screen to ask you which fan pages you would like to manage using Fan Page Robot.