No download or installation!
Revolutionary Features
---
Join us now!
Spending hours in the laborious chores of managing social media accounts? Let me clear, I have used the term laborious in order to stress on the level of management, that social media marketing requires. Being one of the powerful channels to acquire potential customers to your business, social media management is something that definitely sounds tiresome.
In order to get an edge over the competitors, your social media accounts (on Facebook, Instagram, Pinterest, Twitter, Google My Business, LinkedIn, etc.) and your blog (Blogger and Wordpress) need to be consistent and updated all the time. Your interaction with customers and persuasion to let them engaged with your brand, will definitely reap the fruits of your marketing efforts.

Short of Time to Manage Social Media Accounts?
You want your outclass product or service to be publicized on a massive scale, but not able to market on social media properly. Or do not own a dedicated team for social media marketing. You are then immensely missing lucrative perks of traffic, leads and sales.
AI-Powered Social Media Automation Is Your Savior
With the latest AI technology, many of your concerns can be perfectly addressed. That's why many successful marketers are getting serious about using our social media tools to automate social media activities that let them enhance exposure and interaction with customers. This automatically results in greater brand awareness with increased sales and leads.
How social media management and AI tools enable you to focus other business activities while automating marketing efforts. Below are the reasons to give you better insights.
One significant advantage of marketing automation is elimination of stressed marketing activities. While putting social media accounts on automation, you get a sufficient time to focus on other organizational and marketing activities to get in place.
Balance Between Customer Acquisition & Retention:
In order to have a perpetual growth of your business, it is important to acquire customers but retaining them is definitely not that much easy. This is where social media automation comes in, and enables your business in keeping a perfect balance between Customer Acquisition and Retention.
The automated marketing management gives you detailed customers' insights. By predicting customer's needs and demands, it helps you out in devising marketing strategy and take steps accordingly.
Strengthened Control Over Marketing Strategy:
Whatever the social media tools you have been deploying for marketing automation, you get an unsurpassed control over your strategy. Such tools let you post trending content, share the content and control its frequency as well.
You can not only control the posting schedules, rather can find the ideal times to share the content. And can track the user engagement with the brand as well. Thus, you get a platform to modify the marketing strategy to enhance your brand's exposure.
The Benefits of Using the Social Media Tools with AI
There are some smart tools with automation features to control your marketing strategy. Fan Page Robot is a powerful yet simple software that will relieve you from manual posting and other tiring marketing processes. Here are a few features that reveal the top reasons to enjoy the marketing automation by this software.
Create Content Automatically
AI-powered tools at Fan Page Robot can analyze data on social media platforms to identify popular topics, generate content ideas and even write original content for you based on your keywords. They can create and publish posts automatically, saving time for social media managers.
Discover Trending Content
Our social media marketing software is designed to provide you optimum relief in terms of automated social media management. Whatever is the target industry, the software enables you to discover interesting content for the specified keywords. Whether you want trending articles, news, memes, infographics, videos and a lot other stuff; Fan Page Robot can do this efficiently.
Social Channels Integrated at One Platform
It gives you an integration of all major social media channels. Whether you have to manage Facebook business page, or want Twitter automation, Pinterest automation or other platforms to be automated; Fan Page Robot gives a cavernous range of options for all platforms.
Autoscheduler Eliminates Manual Workout
There is no need for tiring manual processes in order to publicize your brand. The Facebook autoposter (and other automation options) of software has an efficient Autoscheduler that lets you automate posting schedules. This definitely lets you release of big frustration.
Find The Best Way to Share
Getting your content autoposted is not the only factor to give you an increased user engagement. In fact, you must have knowledge if the post is more likely to get shared virally. Fan Page Robot tells you about the right Hashtags with a high probability to be discovered very soon. The use of such hashtags in your posts, will give you an edge over others.
You always always get a low reach when you post a promotional post due to Facebook's algorithm. Fan Page Robot, the one and only Facebook marketing software can make you worry-free regarding Facebook promotional post ban. You can market the brand proficiently with high reach and engagement. The Rock.ly campaign builder of the software serves you with the best automated social media campaigns gives you the perks of revenue generation.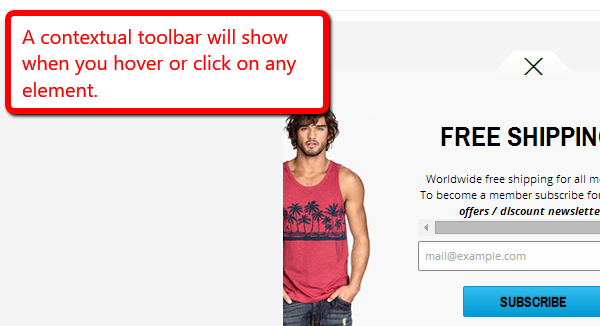 The popup campaign builder is simply an incredible tool of Fan Page Robot that enables you for achieving an improved Click Through Rate. With this tool, you can have the perks of free advertisement on Yahoo, CNN, YouTube, etc.
When you share an enticing post, the user clicks and is redirected to the site, but with an immediate view of your lead generating form. There are 100 stunning templates to select an engrossing design of lead generating form. This in turn results in successful leads and increased revenues.
A Powerful Facebook/Social Media Marketing Software that Everyone Can Afford!
Fan Page Robot is the only results-driven social media dashboard that will help you get more followers and revenue in less time.
It costs even less than a cheese burger, but it will save you a lot of time and boost your business!
No download or installation. Instant access. Incredibly easy to use. 100% money back guarantee!
---
Join us now!