"No more overly promotional posts on user newsfeeds" – this announcement made by Facebook two years ago was like a burst for businesses trying to promote their products and services through their fan pages. Facebook algorithm (Edge Rank) penalizes all the posts that have "hard sell" keywords, such as "buy now", "download now", "click here", and sweepstakes & contests.
For examples, your fan page followers are unlikely seeing a post like this in their newsfeeds: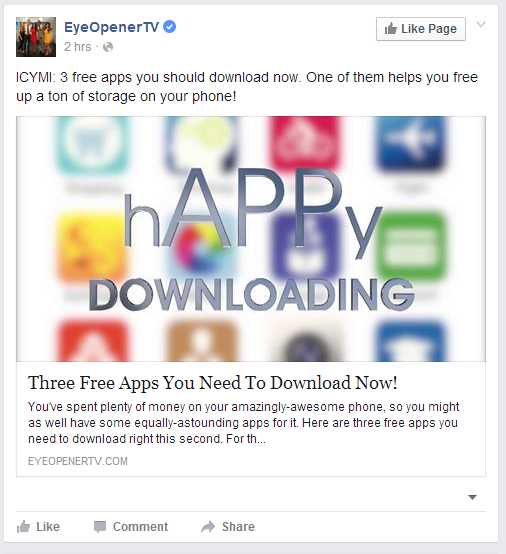 Or this one, the official example given by Facebook: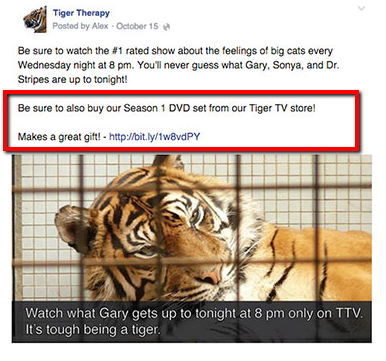 So how can you keep promoting your business without paying for Facebook ads, while avoiding this penalty as well?
3 Principles of a Successful Facebook Content Posting Strategy
What Facebook wants you to practice, is to provide better content and better reading experience for your audience. How you can do so? Try to follow these 3 principles:
Be interest-oriented.
Discover what your customers and fans want from your fan pages. In what kind of posts they are interested? What sounds more engaging and appealing to them?
Be contextual.
Yes, this is what makes your promotion efforts genuine and will not get you penalized anywhere. Instead of throwing a hard-sell kind of post, tweak it a way that does bring out a purpose. When such post gets engagement from users, it is automatically promoted.
Promote your business outside the Facebook radar.
Your catchy, informative and trendy posts will let your visitors click on the links you share. The pages they land on should be the right place that you start to promote your business.
If the link is from your website, you just have promoted your business.
But if it is other than your website, don't make it a dead end. Popup Campaign Builder at Fan Page Robot can automatically set up your ads and lead generation forms on any websites! Your audience are seeing your ads while browsing the websites that you don't own!
Why You Should Use Popup Campaign Builder to Avoid Facebook Penalties
Facebook is not showing the overly promotional posts to your audience anymore. But all our Fan Page Robot users have no worries. Our easy and automated tools can avoid Facebook's penalties on promotional posts, while effectively promoting your products or services on Facebook (and other social media networks) without paying a dime.
Firstly, you can use the content generation tool to create posts from news, images, videos, influencers and a lot more related to your niche.
And then push these interesting, fun-filled, and informative posts to your audience while leading them to view your ads, sign up to your newsletter, download your eBook, etc.
Content Generator lets you discover highly engrossing content with users

Use Content Mixer to further curate content and autopost to your social media accounts

Use Popup Campaign Builder to run your promotion campaign in an unusual way that does not appear to be promotional, but land your visitors to your advertisement or lead generation form.
Whenever Popup Campaign Builder autoposts a link for you, the post will be viewed by users as a link post in a normal way. But what makes it magical, is after the user clicks on the link provided in the post, they will come across your advertisement or lead generation form.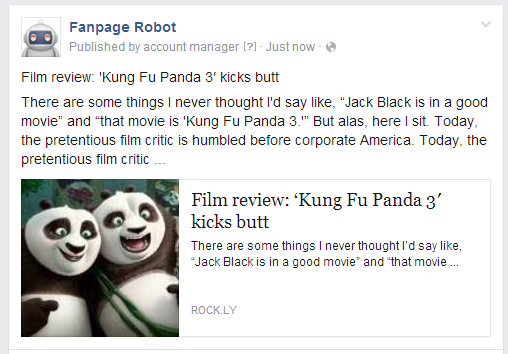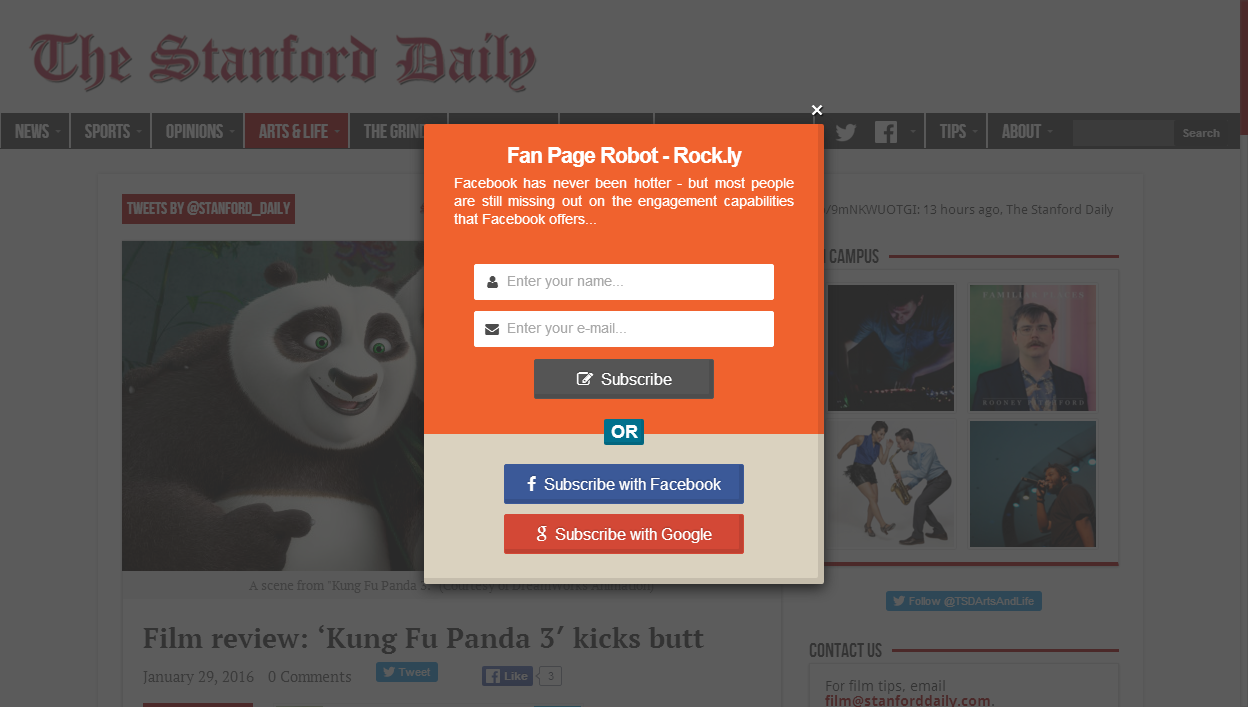 For a better user experience, you can place your ad on any position on the page without interrupting your audience from reading the main body of the article they intend to see.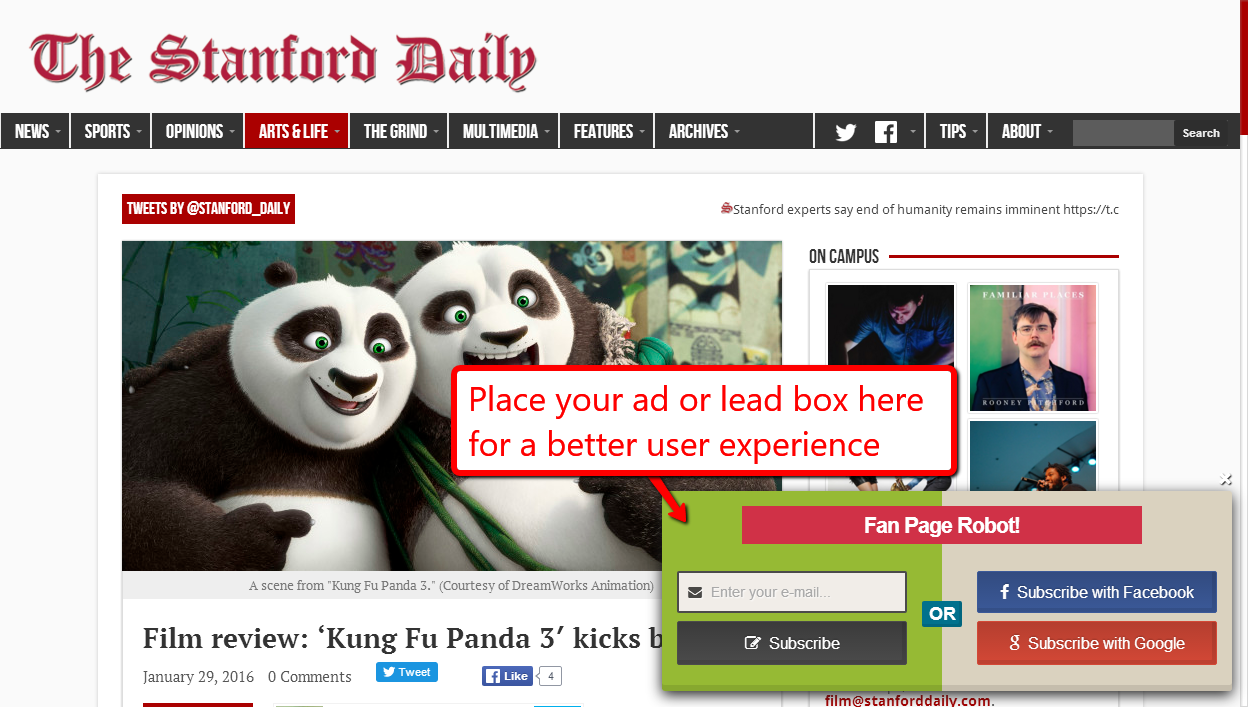 Popup campaign builder is equipped with 100+ various templates. Each one of them serves a different promotion strategy. The animated advertising or lead generating templates are appealing enough to easily convert your visitors into successful leads.
by Brantley Gilbert (Social Media Expert) on January 29, 2016
© 2017, fanpagerobot.com. All rights reserved.
---