Ready to get some real Twitter USA/UK followers, favorites or retweets at the lowest price?
Simply enter the link (URL) of a public Twitter page or post. All the supported services are under the Services & Pricing tab. How to Order & FAQ
* To become a member, sign up for our social media marketing service with the risk-free guarantee. How to Order

Popular Services
Website Social Shares
Improve the SEO for your website! Social likes, shares and mentions signal Google that your webpage has quality content.
Facebook Likes
Real likes and followers from worldwide (America, Europe and other regions) for your posts and fan pages.
Instagram Followers
Get real and active Instagram followers. We will compensate for any unfollows with over-delivered services and lifetime guarantee.
Youtube Subscribers
Increase your video exposure with more Youtube subscribers. Your video likes and subscribers are an important factor for your rankings in search results.
Youtube Views
Drive social engagement with our top-notch audience views. These views would boost your video's rankings in YouTube and Google search.
And many more...
Discover more services below. Enter the right URL when you place an order.
How to Order
---
All Services
Service
Price Per 1000
(Non-Member Price)
Price Per 1000
(Member Price)
Minimum Order

Website Social Shares (SEO Signals)

$12
$12
5000

Website Wordwide Traffic

$3
$3
3000

Facebook Page Likes

$45
$45
200

Facebook Ad/Post Likes

$15
$15
100

Facebook Ad/Post Reactions

$15
$15
250

Facebook Video Views

$3
$3
1000

Facebook Live Video Views 30 Minutes

$60
$60
100

Facebook Live Video Views 60 Minutes

$105
$105
100

Facebook Post Shares

$30
$30
50

Facebook Comments

$600
$600
10

Facebook Comment Likes

$300
$300
100

Facebook Event Interested

$30
$30
50

Facebook Event Attendees

$30
$30
50

Instagram Post Likes

$10.5
$10.5
100

Instagram Video Views

$4.5
$4.5
100

Instagram Comments

$300
$300
10

Instagram Followers

$30
$30
100

Instagram Engagements for 30 days

$450
$450
100

Pinterest Repins

$45
$45
100

Pinterest Followers

$60
$60
100

Twitter Post Favorites

$30
$30
100

Twitter Retweets

$30
$30
100

Twitter Followers

$60
$60
200

Youtube Video Views (High Retention)

$6
$6
1000

Youtube Channel Subscribers

$90
$90
100

Youtube Video Shares

$120
$120
100

Youtube Video Likes

$75
$75
100

Youtube Dislikes

$60
$60
100

Youtube Comments

$600
$600
10

Youtube Engagements for the Next 5 Videos

$75
$75
1500
Tiktok Followers
$30
$30
100
Tiktok Engagements for 30 days
$60
$60
2000

Tumblr Likes

$45
$45
100

Tumblr Followers

$60
$60
100

Soundcloud Followers

$30
$30
100

Soundcloud Plays

$1.5
$1.5
100

Soundcloud Downloads

$1.5
$1.5
100

Soundcloud Reposts

$45
$45
100

Soundcloud Likes

$30
$30
100

Vimeo Video Views

$6
$6
1000

Vimeo Video Likes

$30
$30
100

Vimeo Followers

$60
$60
100
Retweets, shares, and huge followers....These are the major metrics that every Twitter member curiously looks forward to. Having an impressive social presence on Twitter will give your business a leverage on getting more followers, customers, and increased revenue.
Buy Twitter followers from Fan Page Robot and grab the real fans to expand your social activities. But why and where should you buy such followers, this guide will definitely answer your questions.
3 Reasons To Buy Twitter Followers And Shares
If you are pondering over the issue why to buy cheap Twitter followers or consider a genuine third party selling such real followers, retweets or shares. These eminent reasons are sufficient to give you the real insights.
Buy Cheap Twitter Followers For Expanded Outreach
As much a brand is engaged with real users, that much it will probably make them long-lasting customers. With more followers on Twitter, you will have an improved outreach to the target audience.
Buying some Twitter followers will give your brand a massive exposure. Thus, having more chances of interacting with such real followers, you will have more visitors to your website. And finally leading them into your sales funnel.
Build Credibility With Higher Retweets and Shares
Your brand must reflect a higher credibility to let others know your worth. People tend to overlook those brands who do not own influencing social presence.
When you buy cheap Twitter followers, you will give your business a quick push by having an impressive fan base and higher retweets or shares. This will increase your credibility as a brand and more people will follow you.
Enhanced Visibility With More Followers
You can boost SEO and visibility with more retweets and shares. Since a high number of shares, likes and retweets demonstrates compelling nature of social media stuff. Thus, it influences your brand's visibility in the leading search engines.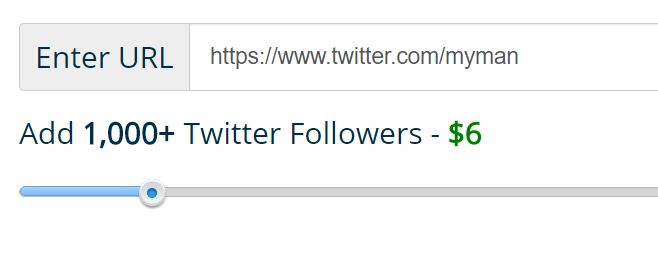 Legitimate System That Lets You Buy Quality Twitter Followers
You can enjoy an awe-inspiring social presence with huge Twitter followers and retweets. Among a number of third party sellers in the market, there are many scoundrels that sell cheap and fake followers.
Such followers will result in short-term results that badly hurt your reputation. So, always go for the legitimate service provider Fan Page Robot who guarantees cheap but quality followers.
This is a social media automation software that has tons of features to make your social media marketing hassle-free. And the software further features an option of Buy Likes/Followers to facilitate customers with real-time followers and long lasting results.
Buy Quality Twitter Followers At Lowest Price
Fan Page Robot facilitates you with amazingly cheap prices. You can have detailed pricing structure by clicking on the 'Pricing' tab. With each service name, the price is clearly mentioned. Check out for the following for other social media services:
Price for 1000 likes/followers (member and non-member prices)
Minimum Order Value
Easy to Go Process For Increased Followers and Retweets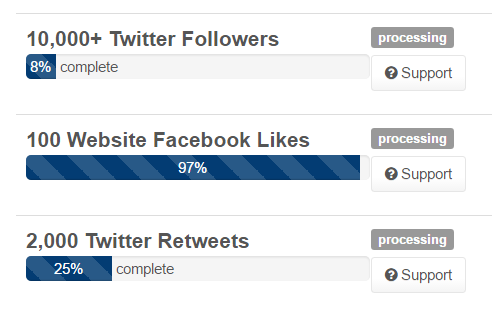 What else can be a great relaxation then getting likes/followers just with a single click? This amazing software has made this process quite efficient and hassle-free.
Click on the 'Boost Likes' button, enter the target URL and the system fetches a complete list of available services for that entered URL. You may also buy cheap Facebook likes, YouTube subscribers and a lot more instantly.
A Powerful Facebook/Social Media Marketing Software that Everyone Can Afford!
Fan Page Robot is the only results-driven social media dashboard that will help you get more followers and revenue in less time.
It costs even less than a cheese burger, but it will save you a lot of time and boost your business!
No download or installation. Instant access. Incredibly easy to use. 100% money back guarantee!
---
Order Now
More Features