General
How to Place an Order?
The rule of thumb is that simply enter the link or URL of the page you want to add likes or followers to. The page must be public and viewable by everyone.
Please read How to Place an order for more details.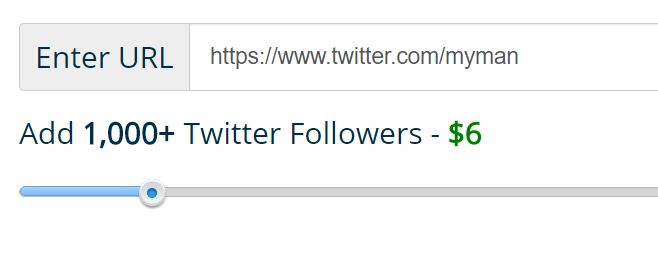 Are these likes and followers added all at once?
Our campaigns are "drip-fed"; When you order less than 500 likes or followers, it usually takes less than 1 day to complete; if you order more than 500 likes, it can take up to 2-15 days depending on the size of the campaign.
Can I run a campaign with another third-party campaign simultaneously?
Yes, but we don't recommend it. We track our progress by your total number of your likes, and if another campaign of yours is increasing your likes simultaneously, it may count towards the promotion we've done for your page.
How do I cancel my order?
You may cancel your order within 15 minutes after you place an order, or before we start to process your order. Once it gets started, you can't cancel the order.
Do you offer any refund and warranty?
You can cancel your order before we start to process your order. We always over-deliver your orders. We don't refund once we start to process your order. However, we stand by our work with a lifetime warranty -- if the number of your likes or followers dropped more than 40, we will redeliver them, free of charge. We always over-deliver on our orders to counter any natural drop-off. Our system will show the count of your followers/likes/subscribers from start to finish.
What is your privacy policy?
Our company highly values your privacy. We follow a policy of confidentiality to tell you how we collect and use information about you and what we do to keep this information confidential.
We do not share confidential information that you have provided to us. Also, we never share this information with third parties, including your orders.

We don't communicate and contact with the owners of services

We do not disclose information about your resale - all information remains with us.

We will protect your data for safety and the prevention of fraud, theft or loss. Also, we guarantee the safety of your data from copying or modification by third parties.

We work only with legal representatives who value the protection of personal information. That's why we confirm that your information will be protected.
---
Facebook, Instagram, Pinterest, Youtube Channel, etc.
Are these likes/followers real?
We send you 100% real page likes/followers!

We own a large and extensive network of Facebook developers and high-traffic websites including blogs, forums and big name websites. These marketing platforms allow us to deliver 100% real views, likes and followers to our customers across the globe.
Are these likes/followers targeted?
Most of our services deliver worldwide likes and followers; this means you may receive visitors from various countries. We also offer geo-targeted likes and followers to the USA or the UK in some of our services. However, we don't offer support for targeted fans to specific cities or subdivisions at this time, though we hope to release something like this in the future.
Will my account get banned or deleted if I purchase your followers and likes?
First of all, it's not against Facebook's terms of service to buy real likes,. However, when you buy likes from other vendors who create fake accounts which then like pages, it would be against the TOS because they are not real accounts.
Our team offers only real followers and likes. We serve you without breaking any terms and conditions. Our networks have provided more than 30 million followers and likes in the past 2 years, and we have never heard of any account got banned or deleted after using our services.
However, please be advised that the followers we will send you are not your target audience. It may lower your engagement rate and mess up your statistics.
How to get the URL or Link of a Facebook/Twitter post or photo?
If you want to get the URL of your Facebook ad, please read How to Get Facebook Ad Link
If you want to get the URL/link of a regular Facebook post or photo, all you have to do is to click on the "Date-Time" of the post. Something like this:

---
Youtube
What are Youtube retention views?
Retention views simulate a captivated audience by having your Youtube video played for a longer period of time than normal views, thereby ranking your video to first page on youtube.
Will my Youtube account get suspended if I purchase your Youtube videos/subscribers?
No. All our views, comments, likes and subscribers are 100% real and natural, however if you are using our services to promote fake cracks, scams, keygens, hacks, viruses...etc then your account may get suspended due to violating youtube's TOS. The suspension will be a result of your video gaining more exposure thereby gaining more attention from youtube staff members.
Why have my Youtube video views not increased yet?
Once your video views reach 300, youtube stops updating the view count in real time so it can check whether the views are real or fake. This temporary youtube view count freeze happens to everyone so you need not worry. Sometimes it can take up to 3 days for the temporary youtube view count freeze to stop.
Where do the Youtube views come from?
Our views are referred from Twitter and Facebook by real people around the world. Since it is real people watching the videos your youtube account is never in danger of getting suspended by virtue of using our services.