Ready to get some real Instagram likes, mentions and followers at the lowest price?
Simply enter the link (URL) of a public Instagram page or post. All the supported services are under the Services & Pricing tab. How to Order & FAQ
* To become a member, sign up for our social media marketing service with the risk-free guarantee. How to Order

Popular Services
Website Social Shares
Improve the SEO for your website! Social likes, shares and mentions signal Google that your webpage has quality content.
Facebook Likes
Real likes and followers from worldwide (America, Europe and other regions) for your posts and fan pages.
Instagram Followers
Get real and active Instagram followers. We will compensate for any unfollows with over-delivered services and lifetime guarantee.
Youtube Subscribers
Increase your video exposure with more Youtube subscribers. Your video likes and subscribers are an important factor for your rankings in search results.
Youtube Views
Drive social engagement with our top-notch audience views. These views would boost your video's rankings in YouTube and Google search.
And many more...
Discover more services below. Enter the right URL when you place an order.
How to Order
---
All Services
Service
Price Per 1000
(Non-Member Price)
Price Per 1000
(Member Price)
Minimum Order

Website Social Shares (SEO Signals)

$12
$12
5000

Website Wordwide Traffic

$3
$3
3000

Facebook Page Likes

$45
$45
200

Facebook Ad/Post Likes

$15
$15
100

Facebook Ad/Post Reactions

$15
$15
250

Facebook Video Views

$3
$3
1000

Facebook Live Video Views 30 Minutes

$60
$60
100

Facebook Live Video Views 60 Minutes

$105
$105
100

Facebook Post Shares

$30
$30
50

Facebook Comments

$600
$600
10

Facebook Comment Likes

$300
$300
100

Facebook Event Interested

$30
$30
50

Facebook Event Attendees

$30
$30
50

Instagram Post Likes

$10.5
$10.5
100

Instagram Video Views

$4.5
$4.5
100

Instagram Comments

$300
$300
10

Instagram Followers

$30
$30
100

Instagram Engagements for 30 days

$450
$450
100

Pinterest Repins

$45
$45
100

Pinterest Followers

$60
$60
100

Twitter Post Favorites

$30
$30
100

Twitter Retweets

$30
$30
100

Twitter Followers

$60
$60
200

Youtube Video Views (High Retention)

$6
$6
1000

Youtube Channel Subscribers

$90
$90
100

Youtube Video Shares

$120
$120
100

Youtube Video Likes

$75
$75
100

Youtube Dislikes

$60
$60
100

Youtube Comments

$600
$600
10

Youtube Engagements for the Next 5 Videos

$75
$75
1500
Tiktok Followers
$30
$30
100
Tiktok Engagements for 30 days
$60
$60
2000

Tumblr Likes

$45
$45
100

Tumblr Followers

$60
$60
100

Soundcloud Followers

$30
$30
100

Soundcloud Plays

$1.5
$1.5
100

Soundcloud Downloads

$1.5
$1.5
100

Soundcloud Reposts

$45
$45
100

Soundcloud Likes

$30
$30
100

Vimeo Video Views

$6
$6
1000

Vimeo Video Likes

$30
$30
100

Vimeo Followers

$60
$60
100
When it comes to enhancing a brand's exposure and interaction with customers, nothing can beat the power of social media. You have Facebook, Twitter, Pinterest, Instagram and a lot other social channels to have a powerful user engagement and visibility of your business. The power of images and visuals further influences a business in an exponential manner.
That is the reason, Instagram automation has become an integral part of social media management tools. But only automating the Instagram activities is not everything that will gain you an edge over your competitors, the count of followers is a preliminary factor in achieving the desired success. That's why we recommend you to buy real Instagram followers and likes at a cheap price.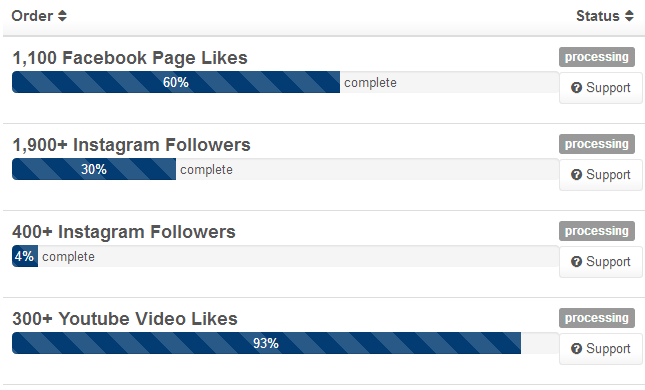 Top Reasons Why People Buy Instagram Followers and Likes
1. Buy Real Instagram Followers for Improved Outreach
In order to expand a business, it is significant to have an extended outreach. Therefore, the Instagram followers play an important role in this regard. As much followers/likes/shares you have on this growing platform, you can probably enjoy an improved user engagement and exposure. Why one should invest to buy real followers on Instagram, let's find out the reasons:
2. Buy Real and Active Instagram Followers for Rapid Exposure
Being one of the fastest growing social media channels, Instagram offers a platform from where you can gain an increased exposure. If you want to have an improved visibility with enhanced exposure, buy followers for Instagram. Having more followers, you will be able to have more likes and shares on your images and visuals.
3. Your Follower Count Matters
When you buy real and active Instagram followers, your trending stuff will get shared on a large scale. Purchasing such likes or followers from a legitimate third party seller will yield genuine followers only. Such followers will share your stuff and you can have more likes, views, and shares.
4. Buy Active Instagram Followers and Become Authority Figure
In order to achieve higher rankings in search engines and qualified leads, it is important to come up as an authority figure in the target industry. With a huge fan following on Instagram will represent you as a trusted figure in the industry. So, more people will start following you there, and in turn, you can have regular users that might transform into customers.
The Instagram Automation Software Also Lets You Buy Real Instagram Followers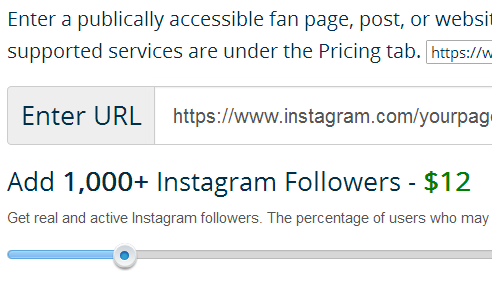 It is the high time to leverage your marketing efforts by purchasing genuine and original Instagram followers or likes. This powerful social media management and marketing software is embedded with Buy Likes/Followers feature as well that lets you enjoy a genuine fan following without any risk of getting terminated due to fake accounts or followers. If you are thinking about how to buy Instagram followers using Fan Page Robot, and what benefits you will be earning, these details will help you out.
Easy Process to Buy Real Instagram Followers
The entire process is much easier than any other providers. Simply click on the Boost Likes button, and enter the URL for which you want to avail the services. The system will automatically start to process your requests.
This all is merely a matter of two to three clicks. And you will have the desired number of real and genuine Instagram followers in an affordable way.
Get active Instagram followers with diverse range:
Fan Page Robot offers genuine selling service for likes, followers, and subscribers. With an extensive network of high-authority blogs, forums, and websites, the software will give you a diverse kind of fan base. You will be able to earn likes and followers from USA, Canda, Asia and Europe in particular.
100% Genuine Followers:
With this social media dashboard, you will not have any worries of fake followers. Our software brings 100% original followers to your Instagram profile. No fake followers or bots will be there. When you buy real followers on Instagram, it will potentially influence the interaction ratio and there will be more shares, comments and likes on your stuff. This, in turn, results in an increased visibility with lead generation.
No risk of account banning or termination:
When you opt to buy real Instagram followers from a legitimate service like Fan Page Robot, there not remains any issue of account termination. The software offers this service in compliance with Terms of Services of Instagram. Although, the channel continuously monitors fake users and accounts. And bans such accounts once they are detected.
But Instagram does not impose any restriction on buying likes or followers. So, you can easily purchase likes/followers from a trustworthy service like Fan Page Robot that does not provide any fake follower or like. So, you can enjoy a long-term success by availing this service without any risk of being eliminated.
Buy Instagram followers at cheap price:
What makes Fan Page Robot a real service provider in this regard, is the unbeatable lower prices offered by the software. It allows you to buy followers for Instagram with the least prices and high-quality results. Under the Pricing tab, you will find prices of all available services.
Purchasing likes, follower, subscribers and views from a trustworthy third party seller will allow you to witness the real growth in your visibility and sales.
A Powerful Facebook/Social Media Marketing Software that Everyone Can Afford!
Fan Page Robot is the only results-driven social media dashboard that will help you get more followers and revenue in less time.
It costs even less than a cheese burger, but it will save you a lot of time and boost your business!
No download or installation. Instant access. Incredibly easy to use. 100% money back guarantee!
---
Order Now
More Features