Ready to get some real Facebook page likes, post likes and comments at the lowest price?
Simply enter the link (URL) of a public Facebook page or post. All the supported services are under the Services & Pricing tab. How to Order & FAQ
* To become a member, sign up for our social media marketing service with the risk-free guarantee. How to Order

Popular Services
Website Social Shares
Improve the SEO for your website! Social likes, shares and mentions signal Google that your webpage has quality content.
Facebook Likes
Real likes and followers from worldwide (America, Europe and other regions) for your posts and fan pages.
Instagram Followers
Get real and active Instagram followers. We will compensate for any unfollows with over-delivered services and lifetime guarantee.
Youtube Subscribers
Increase your video exposure with more Youtube subscribers. Your video likes and subscribers are an important factor for your rankings in search results.
Youtube Views
Drive social engagement with our top-notch audience views. These views would boost your video's rankings in YouTube and Google search.
And many more...
Discover more services below. Enter the right URL when you place an order.
How to Order
---
All Services
Service
Price Per 1000
(Non-Member Price)
Price Per 1000
(Member Price)
Minimum Order

Website Social Shares (SEO Signals)

$12
$12
5000

Website Wordwide Traffic

$3
$3
3000

Facebook Page Likes

$45
$45
200

Facebook Ad/Post Likes

$15
$15
100

Facebook Ad/Post Reactions

$15
$15
250

Facebook Video Views

$3
$3
1000

Facebook Live Video Views 30 Minutes

$60
$60
100

Facebook Live Video Views 60 Minutes

$105
$105
100

Facebook Post Shares

$30
$30
50

Facebook Comments

$600
$600
10

Facebook Comment Likes

$300
$300
100

Facebook Event Interested

$30
$30
50

Facebook Event Attendees

$30
$30
50

Instagram Post Likes

$10.5
$10.5
100

Instagram Video Views

$4.5
$4.5
100

Instagram Comments

$300
$300
10

Instagram Followers

$30
$30
100

Instagram Engagements for 30 days

$450
$450
100

Pinterest Repins

$45
$45
100

Pinterest Followers

$60
$60
100

Twitter Post Favorites

$30
$30
100

Twitter Retweets

$30
$30
100

Twitter Followers

$60
$60
200

Youtube Video Views (High Retention)

$6
$6
1000

Youtube Channel Subscribers

$90
$90
100

Youtube Video Shares

$120
$120
100

Youtube Video Likes

$75
$75
100

Youtube Dislikes

$60
$60
100

Youtube Comments

$600
$600
10

Youtube Engagements for the Next 5 Videos

$75
$75
1500
Tiktok Followers
$30
$30
100
Tiktok Engagements for 30 days
$60
$60
2000

Tumblr Likes

$45
$45
100

Tumblr Followers

$60
$60
100

Soundcloud Followers

$30
$30
100

Soundcloud Plays

$1.5
$1.5
100

Soundcloud Downloads

$1.5
$1.5
100

Soundcloud Reposts

$45
$45
100

Soundcloud Likes

$30
$30
100

Vimeo Video Views

$6
$6
1000

Vimeo Video Likes

$30
$30
100

Vimeo Followers

$60
$60
100
Acquire more free likes and followers for your Facebook pages. Fan Page Robot is able to convert visitors into regular customers for your business and make your social presence powerful enough to brings tons of qualified leads. These are not merely a few promises that we make, rather these are the metrics to judge about your position in the target industry. Moreover, you will be offered to buy real likes at an extremely low price.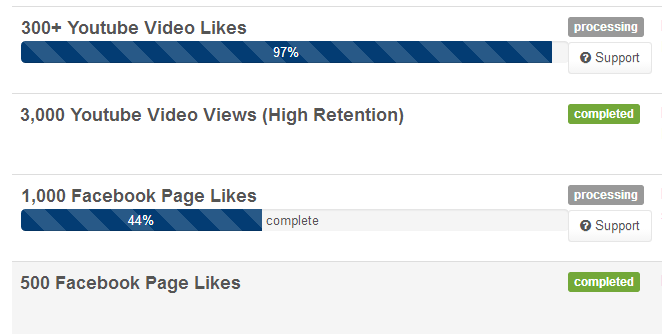 Little Investment to Get Continuous Free Likes
Among a number of social channels, Facebook still holds a significant position that cannot be denied ever. Facebook marketing software are regularly launched to leverage the marketing efforts required for this platform. Automating the marketing endeavors, such tools are designed to increase productivity, traffic, user engagement and profit as well.
But above all Facebook likes/followers count is a primary metric to decide about the user engagement and exposure. As much likes/followers, a fan page has, that much interactive and well positioned the business is considered. In order to gain more likes/followers in a short time, people tend to buy Facebook post likes or followers. Let's explore the reasons for investing money in buying Facebook likes.
"Facebook likes" specify authority:
The social media presence of a brand specifies its authority. These likes/followers or subscribers are the trust signals that strengthen your online reputation and exposure. And so the search engine comes to know about the trustworthy image of that business.
Boost SEO and visibility
A higher number of likes/followers corresponds to the highly engaging content of the page. As much the content is engrossing, it gets more shares and likes equally. This impacts the visibility and benefits the business with improved brand exposure.
Moreover, the SEO results are improved as more people tend to follow the page having more likes/followers/subscribers. So, there will be more genuine visitors to your website that might result in qualified leads.
Leads to long-lasting results:
With so much significance of Facebook likes, a business must invest quickly therein. There are many honest third-party sellers that help you to get 1000 Facebook likes or more. Availing the services of a legitimate seller will not only earn you these likes but will guide you at every step as well.
Where Do You Buy Real Facebook Likes at a Cheap Price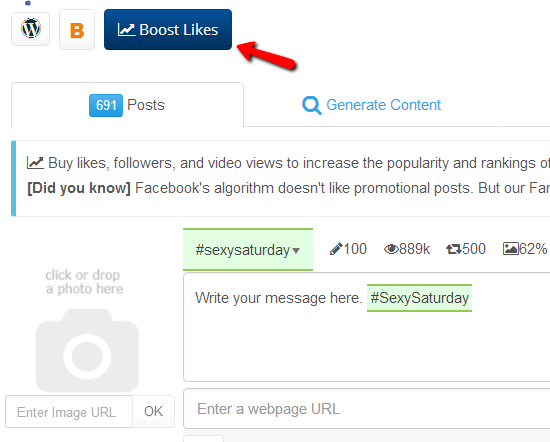 Fan Page Robot is the Facebook marketing software that besides other social automation features, is embedded with this option as well. And the software offers a quality service of selling likes or followers.
The software now incorporates "Buy Likes/Followers" option to amplify the social media presence. You can earn the real Facebook likes within no time just at the distance of a finger click. Some of the highlights about this feature are:
Get 1000 Facebook Likes at Unbeatable Charges:
Fan Page Robot is the software designed to facilitate customers at every step. And that is the reason, the social management tool guides you about how to buy facebook likes or followers. It is the only software that offers real Facebook likes at a quite low price. Everything is properly mentioned in the tool, and under 'Pricing' tab, you can check out each and every detail including service name, the price for 1000 (non-member and member prices) and minimum order value.
100% Orginal Likes/Followers:
This is one of the most preliminary features of Fan Page Robot's likes. You will be able to earn 100% real and original likes/followers for Facebook by availing any of the services. No bots or fake likes are generated.
Having an extensive network with Facebook and high authority websites, blogs and forums, Fan Page Robot grows your fan base by bringing 100% genuine likes, followers and subscribers across the globe.
"Likes/Followers" Compliant with Facebook Rules:
When people plan to buy Facebook post likes or followers, the major concern is about account termination. They are concerned about the issue that will Facebook terminate their accounts if they purchase followers or likes.
Remember, it is not against the Facebook Terms of Services (TOS) to buy real likes, post shares or real fan page followers. In fact, Facebook continuously monitors the existence of fake users or accounts and terminates them as well.
And that is where Fan Page Robot excels in by providing only original Facebook likes. The software does not generate any kind of bots or fake likes or followers. So, there is no issue of being banned by Facebook and you can enjoy a growing fan base with increased sales.
Diverse Nature of Followers:
Another fascinating feature of Fan Page Robot's Buy Likes /Followers service is the diverse kind of followers it brings to your page. Most of these followers are from USA, UK, Canada, Asia etc. Moreover, the tool brings original users from authority websites, blogs, and forums. This increases the trust in the service and ensures the long-term results.
Buy Facebook Post Likes or Followers Through Easy Procedure:
Everything is made super easy through Fan Page Robot. You don't have to move through the crippling speeds for expanding your reach. The software amazingly offers every service related to buying likes, through an extremely easy process.
Just click on Boost Likes button, enter the target URL and system automatically detects about the available services for that specified URL. Everything is done in the wink of an eye in merely two to three steps.
Your Likes Count Matters
Get legitimate likes or followers for your Facebook page and experience improved ranking with increased traffic and qualified lead generation. Availing this service from an honest and well-reputed seller like Fan Page Robot will let you enjoy long-term success.
A Powerful Facebook/Social Media Marketing Software that Everyone Can Afford!
Fan Page Robot is the only results-driven social media dashboard that will help you get more followers and revenue in less time.
It costs even less than a cheese burger, but it will save you a lot of time and boost your business!
No download or installation. Instant access. Incredibly easy to use. 100% money back guarantee!
---
Order Now
More Features